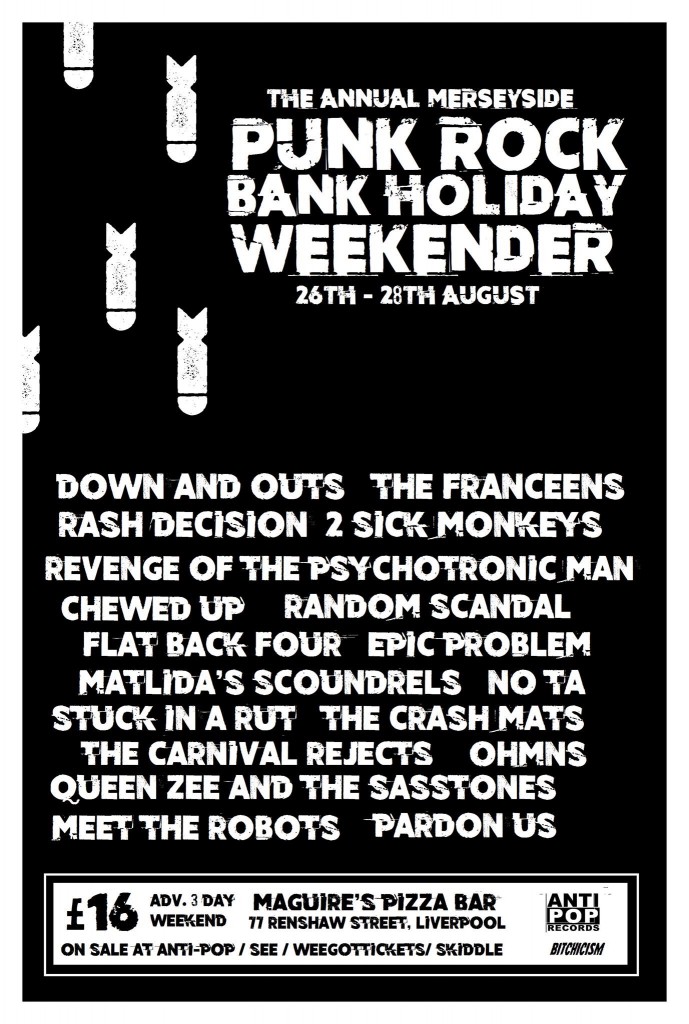 Three days of Punk Rock hosted by Maguire's Pizza Bar, the Liverpool city centre alternative venue.
One weekend ticket available via seetickets, wegottickets and skiddle.
Epic Problem (photo: Punktastic)
18 bands across the 3 nights featuring the cream of the underground:
DOWN & OUTS (Scouse Pop Punk Legends)
https://downandouts.bandcamp.com/
EPIC PROBLEM (New Mills Street Punks)
https://epicproblem2.bandcamp.com/album/lines-ep
OHMNS (Liverpool Garage Noise)
https://ohmns.bandcamp.com/
FLAT BACK FOUR (Speed Freaks aus St Helens)
https://flatbackfour.bandcamp.com
PARDON US (Punk Rock from Liverpool)
https://pardonus.bandcamp.com/
QUEEN ZEE & THE SASSTONES (Liverpool Sass Punk)
https://queenzee.bandcampu.com/album/hate-male
RASH DECISION (Punk, Thrash, Metal from Cornwall)
https://rashdecision.bandcamp.com
FRANCEENS (York's Garage Punk Overlords)
https://thefranceensyork.bandcamp.com/album/stepford-smiles
MATILDA'S SCOUNDRELS (Hasting's Folk Punks)
https://matildasscoundrels.bandcamp.com/
CHEWED UP (Sheffield Anti-Ska Hardcore)
http://www.chewedup.co.uk/
CARNIVAL REJECTS (York based Hardcore)
https://thecarnivalrejects.bandcamp.com/releases
MEET THE ROBOTS (Liverpool Pop Punkers)
https://meettherobots.bandcamp.com/
2 SICK MONKEYS (Wooton Bassett's Finest)
https://2sickmonkeys.bandcamp.com/
REVENGE OF THE PSYCHOTRONIC MAN (Manchester Pyramid Builders)
https://revengeofthepsychotronicman.bandcamp.com/
STUCK IN A RUT (Northwest Hardcore)
https://www.facebook.com/stuckinarutukhardcore
RANDOM SCANDAL (Antifascist Street Punk from Scotland)
https://www.facebook.com/RandomScandal/
CRASH MATS (Oldham based idiotic Punk & Ska)
https://youtu.be/8BOsKdoooL0
NO TA (Leeds Hardcore Punk)
https://www.facebook.com/No-Ta-107513432923578/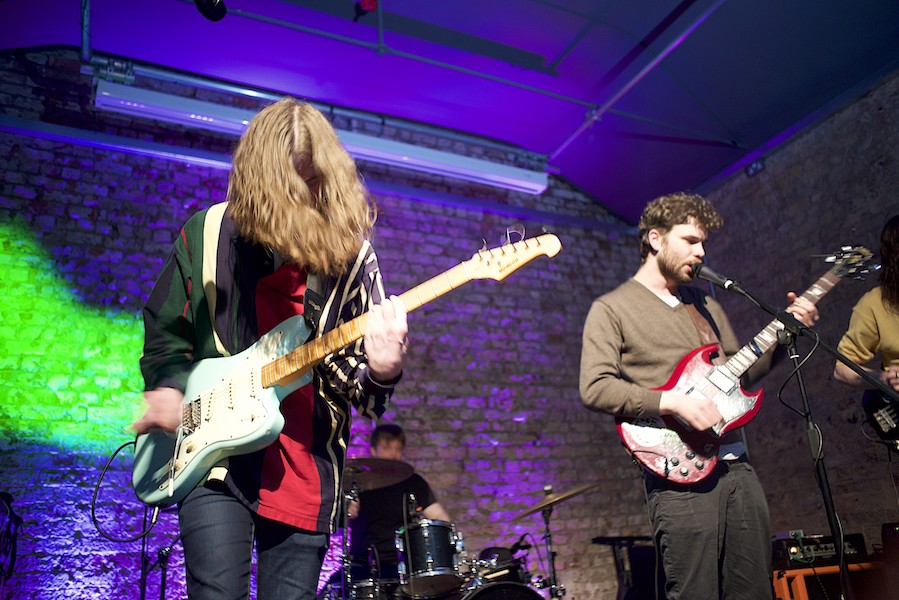 Ohmns  (photo GetIntoThis)
Weekend tickets saves price of a beer on day tickets and guarantees entry to all days. Weekend ticket holders priority if any day sells out.
Skiddle: http://skiddle.com/e/12764270
SeeTickets: http://www.seetickets.com/event/bank-holiday-punk-weekender/maguire-s-pizza-bar/989974
WeGotTickets: http://www.wegottickets.com/event/363071