2018 is the year of The Dinner Ladies. 10 Years of Kitchencore.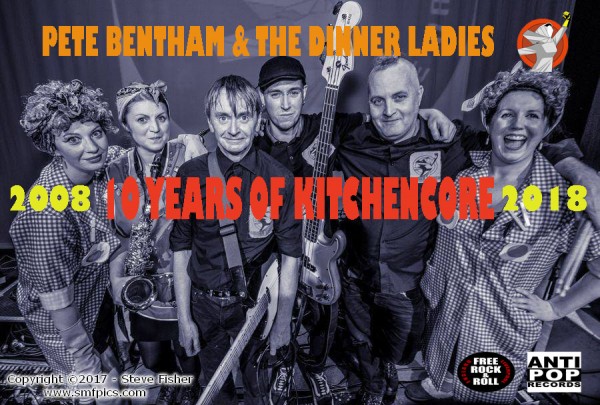 Since Pete Bentham formed the Kitchencore punk rock and roll group in 2008 there has been a trailblazing legacy of three studio albums, two vinyl EPs, a whopping great compilation and more gigs than you can write a book about.
The band promise that 2018 has some big things lined up!
New releases, huge gigs, including a monster hometown bash and some special appearances around the UK and Europe too.
The website is being updated regularly and the Facebook page is go.
UPDATED LIST OF ALL OUR FORTHCOMING SHOWS…
Sat 3 Feb. UK. Oldham, Bank Top Tavern
Friday 2 March. UK, Bolton, The Alma (with CUT & Riggots)
Sat 17 March. UK, Glossop, The Globe
Sat 7 April. UK. Liverpool, Shipping Forecast (Queen Zee Album Launch)
Friday 20 April. UK, Runcorn, Brindley Theatre (with The Blockheads)
Sat 28 April. UK, York, Fulford Arms
Sat 5 May. UK, Warrington, Old Town House (with Bratakus & Dark Days)
Sun 6/Mon 7 May. UK, Liverpool, Smithdown Road Festival (Day tbc)
Friday 11 May. UK. Gateshead, Black Bull (with Loaded 44)
Sat 12 May. UK, Glasgow, 13th Note
Sat 9 June. UK, Widnes, Halton Stadium (with Space)
Friday 15 June. UK, Northampton, Off The Rails Festival
Sat 16 June. UK, Leicester, G-Spot Festival
Sat 23 June. UK. Liverpool, O2 Academy (with The Skids)
Wed. 17 July. UK. GERMANY, Berlin, Wild at Heart
Thurs. 19 July. GERMANY, Steinhagen, Kiefernklause
Friday 20 July. GERMANY, Bonn, Kult 41
Sat 21 & Sun 22 July. GERMANY. Nurtingen, 4 Schon Am Neckar Festival
Sat 4 August. UK. Weymouth, Belvedere Inn
Sun 5 August. UK. Somerset,Compton Martin, Outcider Festival
Sat 15 September. UK.Liverpool. Invisible Wind Factory. (Dinner Ladies 10 Year Anniversary Party)
Sat 6 October. UK. Details TBA
Sat 8 December. UK. Ashton-Under-Lyne, The Station