The line-up and day splits for Dead Good Gathering 2017 have been announced and it's going to be DEAD GOOD>>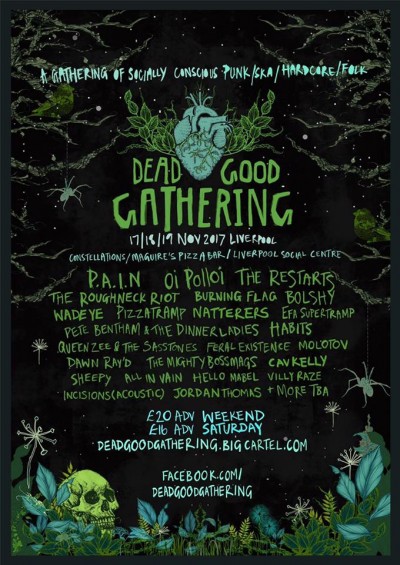 The Liverpool mini festival spans three days NOV 17-19th and takes place at Constellations on Saturday 18th with Oi Polloi, The Restarts and P.A.I.N. alongside Pete Bentham and the Dinner Ladies and Bolshy.
The weekend kicks off on Friday 17th at Maguire's Pizza Bar with The Roughneck Riot and Habits. 
The closer on Sunday is a chilled affair (honestly!) with Wadeye headlining a line-up that features Villy Raze.
FRIDAY – Maguire's Pizza Bar
Roughneck Riot
Feral Existence
Habits
Sheepy
Dawn Ray'd
SATURDAY – Constellations
Oi Polloi
Queen Zee & The Sasstones
Efa Supertramp
Natterers
P.A.I.N.
Hello Mabel
The Mighty Bossmags
Molotov
Burning flag
All in Vain
Pete Bentham & The Dinner Ladies
Bolshy
Pizzatramp
The Restarts
Special Guests
SUNDAY – Liverpool Social Centre
Wadeye
Villy Raze
Cav Kelly
Incisions (Acoustic)
Jordan Thomas
Running order + set times will be announced nearer the date.
Tickets – http://deadgoodgathering.bigcartel.com/
Follow and Like on Facebook
Venue Map: